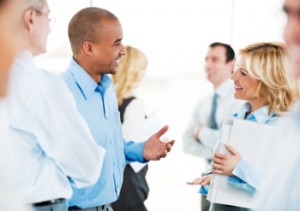 In business, first impressions are critical. Researchers from NYU found that we make eleven major decisions about one another in the first seven seconds of meeting. What can you do to ensure that when you meet someone for the first time that they have a positive, lasting impression of you?  It's as simple as ABC…
Approach

Firm handshake
Ask an open-ended question.  People love to speak about themselves and their work.
Listen intently, repeat names aloud to help you remember them.
Posture – stand straight and balanced
Smile
Steady eye contact
Articulate your value proposition – what can you bring to the relationship? Practice ahead of time to ensure that you deliver a concise, yet compelling message.